Welcome!
Healthy Hearts For Kids
Healthy Hearts is a school based curricular intervention that encourages children to participate in physical activity regularly, eat properly, and avoid the use of tobacco products. The web-based instructional module is designed to impact children's knowledge, attitudes, and behaviors related to these risk factors associated with cardiovascular health. It encourages youngsters to read, write, and problem solve, while learning to make wise decisions that will impact them throughout their lifetimes.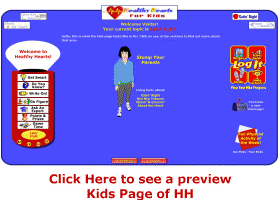 The module can be used by teachers of upper elementary age students to supplement their current health curriculum. It encourages classroom teachers and/or health teachers to work collaboratively with physical education teachers, media specialists, and others to integrate the instructional unit into a number of subject areas within the school curriculum. Healthy Hearts helps teachers meet a number of National Standards in the subject areas of health, physical education, science, language arts, and technology.
Healthy Hearts has four topic areas: About the Heart, Movin' & Groovin", Eatin' Right, and Bye Bye Tobacco. Each topic area gives students opportunities to complete interactive tasks, take quizzes, complete writing activities, play educational games, and ask questions to experts. In addition, children are encouraged to complete daily logs of their physical activity and diet intake for which they receive immediate feedback to applaud their reports or to help them make wiser decisions the following day. Incentives are provided to encourage students to complete online tasks, take quizzes, and complete physical activity and diet logs.